Dr. Shull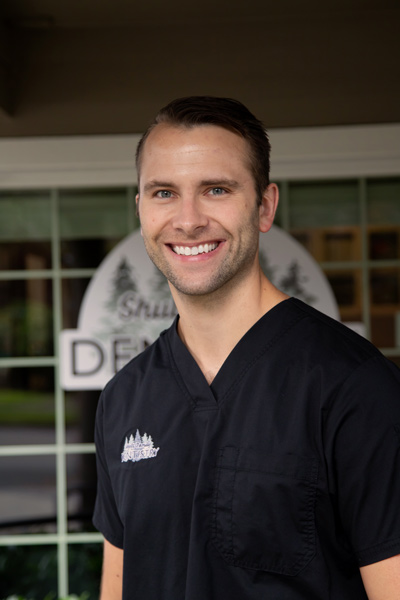 Levi Shull, DMD

Always with an interest in helping people and improving the community, Dr. Levi Shull's background in dentistry goes all the way back to his childhood. Levi's mother used to work at a dental practice, and he would stay late after grade school and help her clean the office. Since childhood, he knew he wanted to help others, and those childhood years spent at his mother's place of work inspired him to set his career goals on dentistry.

Dr. Shull received his Bachelor's Degree from Willamette University and then went on to graduate from dental school at Oregon Health and Sciences University in 2013. A practicing dentist since then, Levi takes particular joy in offering family dentistry services to his community.

Shortly after setting up his practice, Dr. Shull also took a strong interest in volunteer work within his community, participating as a Willamette University Alum, volunteering in St. Paul Jaycees, and working with local charities.

When practicing dentistry, Dr. Shull takes particular joy in getting to know his patients, learning their stories, interests, hobbies, and life goals. He strives to make dentistry as comfortable and pleasant as possible. Levi is also committed to ongoing education. He makes it a priority that he and his staff continue to learn new techniques and procedures that they can offer to their patients.

Committed to creating a comfortable and welcoming family practice, Dr. Shull takes particular joy in performing dental care services for children. In his words on the importance of dental health, particularly as pertains to children, "Children are all about routine. Bring them into the practice so they can get used to receiving dental care at a young age, so they can get used to dental health and preventive dentistry before any dental problems develop. Get them used to flossing and brushing at a young age so they make it a part of their routine, so they actively prevent cavities and other ailments common in kids. Doing the above and making a habit of it is the key to a happy, healthy, grinning child!"

Dr. Shull is always happy to offer advice to parents on how best to care for their children's dental health.

When not working in the practice, Levi spends his free time with his wife and three children. He also enjoys watching football, his Trailblazers, and woodworking.