Dental Crown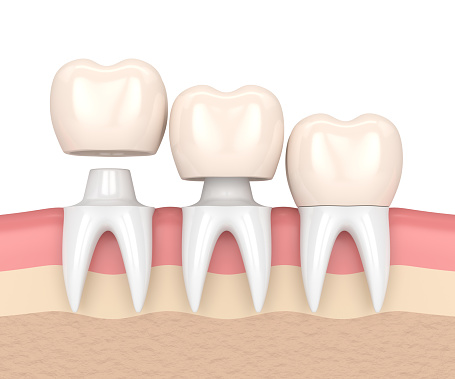 What is a crown?

A crown is a replacement of the outer surface of a tooth to protect a weakened or at-risk area. They are routinely done to prevent the loss of a tooth from fractures. They fit over the prepared surface of the weakened tooth like a lid on a box.


Why is a crown needed?

Crowns on teeth may be needed for a number of reasons. Fractures in teeth are one of the most common causes of needing a crown. Like the cracks in a windshield, fractures in teeth will continue to spread down the tooth until they reach the root and can split the tooth in half if left unattended.

Crown preparations are done to remove fracture lines and prevent further spread while strengthening and protecting the other surfaces of that tooth. Teeth with large cavities or large fillings that are in need of replacement may also require a crown to protect those teeth from future issues. Teeth that have had root canals are also very prone to fractures due to very thin remaining tooth walls and always require crowns to protect them.


Crown Types

Dental crowns can be frabricated in either gold or tooth-colored material depending on your preference. Tooth-colored crowns are matched to your individual tooth shade to ensure they blend in well. At our Shull Family Dentistry, Crowns on back teeth are made from zirconia. Zirconia is an extremely strong material that will resist fracture while still allowing you to have a crown that matches your mouth well. On front teeth needing crowns, we use a porcelain material that is not quite as strong as zirconia but has a greater ability to match the fine details needed to blend in with your front teeth.


Taking care of the crown

In order to ensure that your crown lasts, it is important to care for a crown as you would your natural teeth. You should not skip brushing/flossing as you would your normal teeth. Just because you have a crown, does not mean decay cannot set it underneath it. It is important to continue to maintain good oral hygiene habits.


Questions?

As always, if you have any questions about the process of getting a crown, or are in need of one, the staff at Shull Family Dentistry is available to answer all your concerns. Give us a call at 503-362-5019.