Dental Implant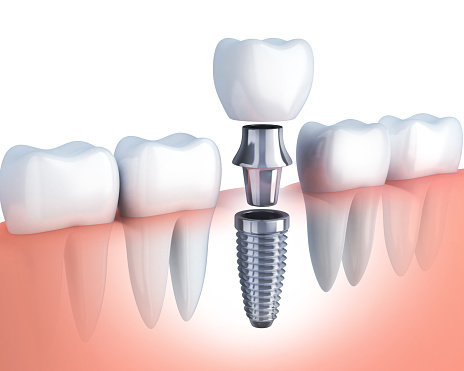 The last thing anybody expects is to have a situation where a tooth is missing or needs to be pulled. For whatever reason you've lost a tooth, a dental implant is often a great choice for replacement.

At Shull Family Dentistry, we can insert an implant surgically into the bone where you have a missing tooth or teeth to return the area to normal appearances/function.


What is an Implant?

An implant is a replacement for the root of a tooth. It is a titanium anchor placed into the bone surgically. Typically it will take 4-6 months for your bone to heal properly around the threads of an implant. After proper healing, Dr. Shull will then begin the process of placing a crown on the implant to make the area like new.

Just like a normal dental crown, a mold of your teeth will be taken and an implant crown can be attached to the implant and custom-made to your shade to blend in with your surrounding teeth. Single tooth implants and multiple tooth implants are available to fit your needs.


Care for your implant

Just like your normal teeth, an implant can fail if you do not care for it properly. We will give you specific instructions for caring for your implant after we've placed it. For almost all of our patients with implants we will recommend using a water pick daily to remove any plaque or debris that will build up around the gums.


Questions?

As always, if you have any questions about the process of getting an implant, or if dental implants are affordable for you, the staff at Shull Family Dentistry is available to answer all your concerns. Call us today at 503-362-5019.

Additional Information:
How Much Do Dental Implants Cost