Invisalign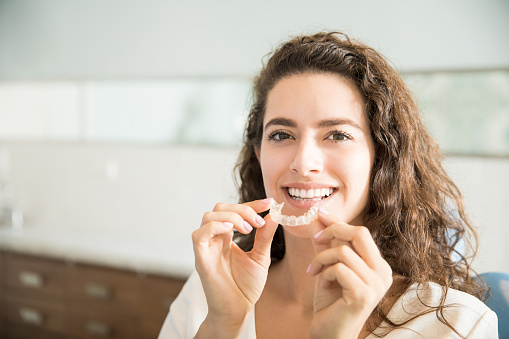 Are you unhappy with the appearance of your smile? Is your bite off resulting in chipping or breaking teeth? While the solution to these issues can be to restore teeth with fillings or crown/veneers, the most permanent solution is to fix alignment issues with Invisalign. By incorporating Invisalign we can straighten teeth that are in almost any alignment and correct issues both great and small.


What is Invisalign?

Invisalign works similarly to traditional wire braces. The difference is that you wear a series of clear aligners that move the teeth. We encourage our patients to wear aligners for 22 hours a day to maximize effectiveness, only taking them out to eat/drink and brush/floss. Each aligner is worn for 1-2 weeks depending on your comfort level and movements we are trying to achieve.


Invisalign Process

When you arrive at your initial Invisalign appointment, we will digitally scan your whole mouth. At this time, we are able to show you a "rough draft" of what your final outcome will look like and can address and specific concerns you have about your smile or bite. That scan is then processed in the Invisalign program and we can text you a link, or review in office your final draft. This will show you how many trays you need and the sequence of movements needed to arrive at our desired outcome. Dr. Shull will routinely make changes to this final draft based on the patient's specific requests or needs.


Invisalign Delivery Appointment

Delivery of your Invisalign trays can be an exciting day! Typically there will be some tooth colored composite buttons that we add to your teeth to facilitate different movements of teeth. This appointment will take about an hour for us to finalize the buttons and go over care/maintenance of your trays and answer any questions.

Dr. Shull likes to monitor Invisalign patients' progress very closely having you come in around every 4th tray. This is to make sure that things are moving the way we want and do not require any course corrections.

When you are through with your set of trays, there may be some minor corrections we still need to make. It is routine that patients require a set of "refinement" trays to alter a small detail that wasn't fully resolved with your initial trays. Once you and Dr. Shull are satisfied with your outcome, we will digitally scan you to deliver clear retainers that you will wear at night to prevent teeth from moving back to their original position.


Are You Ready to Change Your Smile?

If you're ready to start your own Invisalign journey, we are happy to answer any questions you may have! We always offer a free digital scan of your mouth to visualize what is possible with absolutely no pressure to agree to treatment. Call Shull Family Dentistry today at 503-362-5019.