Dental Bridge

Salem, OR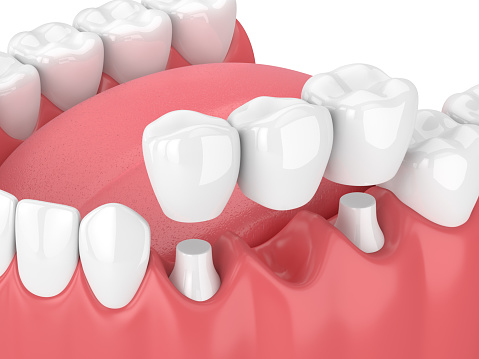 If you are missing one or more teeth in an area and wanting to replace them for function or appearance purposes, one option is to do a bridge. If implants are not possible due to personal preferences or lack of space in the bone, a bridge can be done.

A bridge involves placing a crown on the teeth on either side of a space and connecting those crowns through a false tooth or teeth in between.


Bridge Varieties

Dental Bridges can be fabricated in either gold or tooth-colored material depending on your preference. Tooth-colored bridges are matched to your individual tooth shade to ensure they blend in well.


Maintenance

One drawback to bridges versus traditional implants is that they do require a degree of additional hygiene to ensure they last a long time. Since the crowns are all connected special care will need to be taken to floss underneath the false tooth/teeth to remove any plaque or debris that may accumulate there. Typically we recommend a water pick to any patient who have bridges in place.


Questions?

As always, if you have any questions about the process of getting a bridge, or are in need of one, the staff at Shull Family Dentistry is available to answer all your concerns. Call us today at 503-362-5019.