TMJ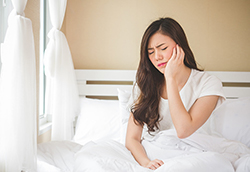 Experiencing pain in the temporomandibular joint (TMJ) can be caused by many factors. The pain can be so excruciating that you may find it difficult to chew food, smile, or even carry on a conversation. With the main culprit for the pain being a disorder, it is important to recognize what may be causing the disorder.

Having so many causes for a disorder, it may be difficult to pinpoint exactly what is causing it. When you get a hold of Shull Family Dentistry, our dentist will meet with you to discuss the possible causes. Once a cause is determined, you will then be able to obtain the right treatment.


Symptoms of TMJ Disorder

Having a TMJ disorder can be discovered quickly when you have certain symptoms appearing. Regardless of how severe a symptom is, it is important to have them addressed during your dental appointment. Below are a few of the most common symptoms leading to a TMJ disorder.


Pain in the TMJ

Whenever there is pain present, it is a clear indicator that something is going on with the TMJ. When you have other issues such as sounds while chewing, your pain may increase. Sometimes, when pain is felt, it could become a constant pain.


Ear Pain

Pain radiating to the ear may be something completely different than a TMJ disorder. However, if it occurs at the same time as your TMJ pain, then you can easily put the pieces together. If you have painful ears, it is also due to them being so close to your TMJ.


Painful and Constant Headaches

Having headaches that are painful and constant could be caused by a TMJ disorder. This could be due to a poor articulation of your TMJ. This will cause your ligaments and tendons to tense up and pinch the nerves, causing a headache to occur.


Treating Your TMJ Disorder

Other than developing a treatment, your dentist may also incorporate therapies as part of the treatment. In order to start therapy, your dentist may prescribe something to help get the pain controlled first. Controlling the pain may involve the use of a mouthguard.

As soon as the mouthguard controls your pain, the dentist will then determine your bite and discuss any misalignment that they find. You may also need to conduct exercises to help control and alleviate the pain. Once the exercises start to alleviate your pain, they will also help stop your jaw from clenching and grinding.


Mouthguards to Alleviate the Pain

Using a mouth guard helps so that your teeth do not grind while sleeping. Using the mouthguard will alleviate the clenching of your jaw. Clenching is also a sign of pain and puts pressure on the TMJ. When you are incorporating a mouthguard that is custom fit, your mouthguard will be made from a molding that your dentist makes so that you have a perfect fit.

Having any pain while chewing or even as you smile can be cause for concern when it involves your TMJ. If you are having any pain associated with the joint you should contact us at Shull Family Dentistry so that the root cause can be determined. Don't wait, call us today at 503-362-5019.