Dentures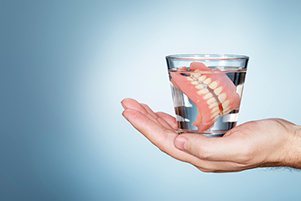 The thing to remember about dentures is that they are not just for older people. In fact, dentures can be worn by anyone who has a few teeth missing or who would benefit from dentures due to an extreme amount of tooth loss. When you contact Shull Family Dentistry, we will get your teeth and gums fitted for a nice pair of dentures whether that be a complete set or a partial set so you can enjoy your favorite foods again.


What Causes You To Need Dentures?

When you decide to have dentures, it may be caused by several factors. You may have teeth that will need major repairs due to decay so dentures would be used to help you have a full set of teeth again. When you need dentures, you might have a family history of certain conditions affecting the teeth and gums.


When Can You Begin To Wear Dentures?

You do not need to wait long after you have your teeth removed to begin wearing your dentures. In fact, there are a set of dentures known as immediate dentures that allow the user to wear them shortly after your teeth are extracted. Having immediate dentures permit you to enjoy food without waiting for the gums to heal.


What Your Mouth Will Look Like

When you have dentures, you can expect to have a tremendous improvement in how you smile, which will give you a boost in your self-esteem. Not having dentures will allow sagging to take place in your mouth. This will cause you to look a lot older.

By having a near match of your original teeth you will be able to smile normally and eat regular foods with ease. You will also have an easier time keeping them clean and fresh.


Can Dentures Be Worn All of the Time?

At first, you may need to wear your dentures for 24 hours a day until your gums have become accustomed to them. After you are comfortable with the dentures, you can start to remove them and soak them at night. As you take them out at night, your gums can rest so that your mouth can relax.


Can Dentures Last Forever?

Although you have artificial teeth, you will still need to take care of them so that they can last as long as possible. Regardless, they may still get worn out eventually due to normal wear. If this happens, you need to have them changed out.

When you are wearing dentures that don't fit right, they will become uncomfortable to wear. You may also develop irritations in your gums which can lead to an infection. If an infection starts, then you may not be able to wear your dentures until the infection clears up. When you keep your dentures maintained, many potential problems can be avoided.

Having loose feeling dentures will make your mouth uncomfortable to chew. When that starts to happen, you need to reach out to Shull Family Dentistry to take a look at your dentures. We will ensure that your dentures are fitted perfectly for your gums. Call us at 503-362-5019.